Introduction to Clock Servicing
An introduction to the basics of clock servicing, suitable for the beginner to the more advanced with the ability to be able to service your own clock if suitable.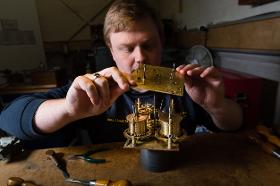 Syllabus
Through the repair and service of a suitable mechanical clock movement, the Introduction to Clock Servicing course will cover the following:-
Initial assessment
Safe dismantling
Cleaning techniques
Basic repair techniques
Reassembly
correct set up
Regulation
The course is designed to be an absolute beginner's guide to support those with little or no knowledge of clock repair. It will, through both practical work, demonstrations and discussion, enable the student to appreciate, understand and practice many of the basic skills that are required in clock repair.
The choice of project needs to be discussed with the tutor to ensure suitability. J A Alcock & Son are able to supply suitable projects where required.