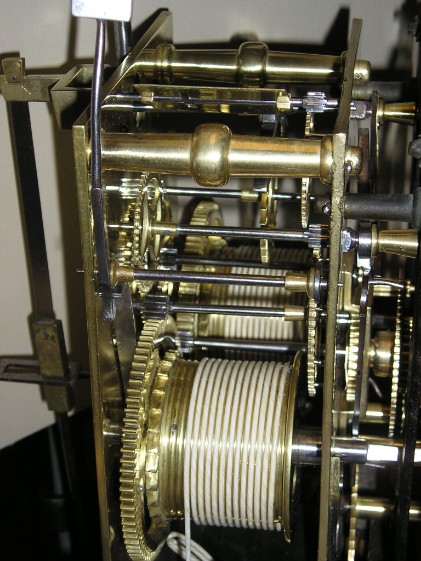 Servicing
Why do clocks need to be Serviced?
A clock, like your car, is a piece of mechanical equipment which needs maintenance on a regular basis. Unlike you car a clock will run non-stop 24 hours a day 7 days a week 52 weeks a year.
If you were to drive your car at 30 miles an hour for a full year you would cover 262,800 miles. This would mean that your car would require a Service every other week or so.
Fortunately clocks are designed to run like this and generally only need maintenance every 5 to 8 years. This sort of time scale keeps your clock in good condition as wear and other potential problems are spotted early. Doing this will result in less work/time to rectify any faults and, more importantly, your clock remains a reliable time keeper for many years to come.
You should consider having your clock Serviced if any of the following apply:
Clock keeps poor time

Reduced duration (clock doesn't run as long as it should on a wind)

Signs of wear (eg clock becomes harder to wind or you see signs of fraying on the weight lines)
Functions don't work (eg the clock stops chiming)
Slipping hands (especially noticeable when setting the time)
You've had the clock for more than 5 years from new or it's between 5 and 8 years since it was last Serviced
What does a Service involve?
Strip down to component parts

Removal/repair of normal wear from components

Multi-stage cleaning of all working parts and frames

Re-assembly
Lubrication
Testing at our workshop
In addition to the work done,
J A Alcock & Son will collect your clock, return it to you when the work has been completed, and set it up again in your home. This is an additional complimentary benefit which we provide when we Service your clock - please be aware that other repairers may make additional charges for this, if they offer it at all, such as call out charges and set up fees.